The most Efficient, Versatile and Cost Effective Screen System available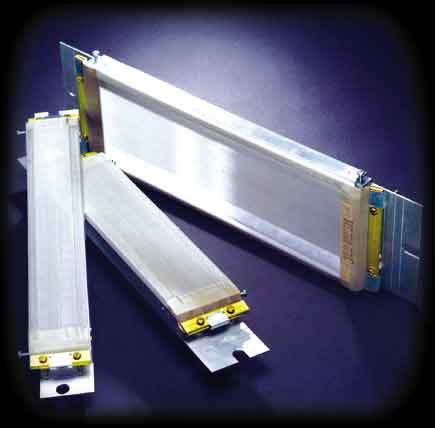 View the Kwik Change Assembly Process Here
The Kwik Change Screen System offers two major advantages over conventional screens:
- It simplifies screen preparation by avoiding the need for adhesives, fabric stretchers and hand finishing.
- It speeds up screen changes by avoiding the need for positional adjustment.
By using innovative design, prefabricated components and simple jigs, the screen preparation process has been reduced from several hours to only a few minutes - even with minimal skills!
The system is suitable for all screen-printing machines including linear or rotary multi-colour machines and single colour machines and for printing any cylindrical, conical, flat or oval product.
ADVANTAGES
Compared with conventional screens, the Kwik Change Screen System offers numerous advantages including:
Screen change time is greatly reduced and can be achieved in as little as one to two minutes even without specialised skills.
Preparation time is greatly reduced as there is no time lost waiting for adhesives to dry. Typical preparation time is 5 to 6 minutes compared with up to 60 minutes for adhesive-based systems. Screens for 24 hours usage can be prepared in 2 to 3 hours.
As the system uses no adhesives, no screen stretcher is needed. There is no wastage of fabric and minimal time for re-covering of frames.
The high precision of the frames means that finer screen fabrics can be used. Finer fabrics means lower colour consumption - typically, a saving of 10 to 15% as well as better controlled ink deposit.
Lightweight aluminium screen frames reduce load on machine bearings and improve colour to colour registration and allow higher decorating speeds.
Precision leading edges of Kwik Change Screen Frames gives constant 'snap' distance and controlled ink deposit.
Better control of screen fabric tension gives better print consistency and longer screen life.
Suitable for TP glass enamels, cold paste enamels, TP organic inks with screen temperatures up to 95° C and the new generation of UV inks.
Minimal use of skilled labour in screen preparation.
Long working life of screen frames. Typically 10 years or more.
No metal to glass contact and reduced chance of breakages.
Maximum coverage. Frame and screen design allows stencil to be very close to the edge of the frame.
Screen fabric tension can be adjusted to suit shape of substrate.
Interchangeability of screens across different types of machines.
Minimal use of screen tapes and photoemulsion.
Near perfect electrical insulation.
PREPARATION OF SCREENS
By using a simple Assembly Jig, the prefabricated screens are fitted with tension bars. These bars also act as electrical contact bars when the screens are used for printing with thermoplastic enamels. The screen is then easily located on the screen frame and the required tension applied. Tension can be easily adjusted to suit the size and shape of the product. The special profiles on the screen and frame prevent loss of fabric tension. With this process, a screen can be fully assembled and tensioned, ready for coating, in only 6 minutes.
SCREEN EXPOSURE
After coating with photoemulsion and drying, the screen and the photopositive are placed into the Exposure Jig. This Jig accurately locates the stencil with the screen mounting points but also brings the positive and screen fabric into perfect contact ready for exposure, without the need of a vacuum print down frame.
The G.G.Cade Table Top Exposure Units have been designed specifically for use with the Exposure Jig system and offer fast, reliable exposures using the minimum of energy.
SCREEN CHANGING
Because the screen has been prepared in the Exposure Jig, the relationship between the stencil and the screen mounting points always remains constant. This means that after fitting the prepared screen to the printer, there is no need for positional adjustment. Screen change time can be reduced from up to 20 minutes to only 1 to 2 minutes giving savings in "down time" and increased production.
THERMOTUF PROFILES
To give maximum screen life, Kwik Change replacement screens are fitted with THERMOTUF profiles. These special profiles are designed for printing with thermoplastic enamels and will withstand both heat and tension for many hours without distortion. There are two types of Thermotuf profiles available:
- Thermotuf Blue, for temperatures up to 75°C
- Thermotuf Red, for temperatures up to 100°C
PRODUCT RANGE
The Kwik Change Screens are available to fit all types of screen printing machines:
- End Mount Frames for Strutz, Rosario, Dubuit and Kammann multi-colour automatic machines
- End Mount Frames for 1 and 2-colour Dubuit 150 machines
- Side Mount Frames for

, Fermac and Isimat multi-colour automatic and semi-automatic machine.
We also offer special Kwik Change Mug Frames for printing handled products such as mugs, cups, tea glasses and jugs. These frames are fitted with a special end flange insulation to prevent thermoplastic colours from freezing on the frame. Kwik Change Mug Frames are available for both end mounting or side mounting.
All Kwik Change screen frames are offered in a range of standard sizes but we can offer working lengths up to 650mm and working widths up to 300 mm.
The Kwik Change Screen System is the most efficient, versatile and cost effective screen system available.
Our CD-ROM or videotape (PAL VHS or NTSC format) showing the Kwik Change Screen System assembly process is available FREE OF CHARGE.